Studios
Our studios in Ottawa and Montreal provide quality services to clients across Canada. Large workshops, air-conditioned facilities, specialized equipment and security systems ensure the very best in the handling and treatment of your fine art.
Our studios are in modern cement and steel buildings and are equipped with the most up to date, museum quality equipment. Both studios house large vacuum lining tables, an assortment of microscopes and lab equipment, spray booths and vapour extraction systems. Our investment facilities and equipment ensures we can manage a wide variety of difficult conservation treatments.
Both studios are easily accessible being within the city and offer onsite parking. Large workshops capable of handling oversized artworks and murals are protected with security systems to ensure the safest handling and storage of your artwork.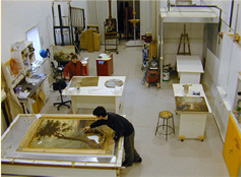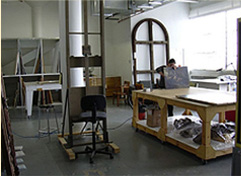 Montreal Studio
RCA Building
1001 Lenoir Street, Suite A-203
Montreal, QC H4C 2Z6
By appointment only.
Telephone: (514) 270-5665
Email: montreal@legris.ca
View Larger Map
Ottawa Studio
15 Capella Court, Unit 113
Ottawa, ON K2E 7X1
Open Monday to Friday 8am-5pm.
Telephone: (613) 727-1234
Fax: (613) 727-3345
Email: ottawa@legris.ca